National Public Radio features student musicians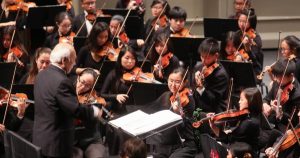 There's a particular thrill and sense of pride in hearing talented kids from Hawaii performing on prestigious national platforms. On Dec. 2, National Public Radio's "From the Top" came to Honolulu to record a live show at the NBC Concert Hall. Several students of Musicians' Union members participated as part of the highly acclaimed Hawaii Youth Symphony 1. "From the Top" showcases performances from the best young jazz and classical musicians in the country and is broadcast on over 220 stations to an audience of 700,000+ listeners. This episode will air 10 a.m. Jan. 21. Congratulations teachers!
From the Winter 2016 issue, "Of Note," Ke Ola O Na Mele
In this issue:
President's Message: "Collective bargaining is the lifeblood of our organization. It works when musicians stand together to make their voices heard." —Steve Pearson
Member Spotlight: George Kuo, Hawaiian slack key guitar master: "The sounds of the traditional Hawaiian slack key guitar touch my senses and invigorate me like no other music or activity — it's such an overwhelming, good feeling."
2016 Election Results:
 The results of the Aug. 22, 2016 Local 677 elections are here!
Building Update: 949 Restrooms & Building Cleanup — Renovations are a dirty business, but union musicians are up to the challenge. A select few gave parts of the union headquarters some much-needed love.
Of Note: