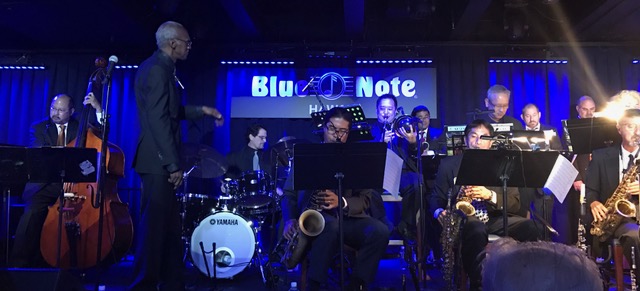 Blue Note Waikiki
The Mike Lewis Big Band enjoyed a successful engagement at the Blue Note Waikiki Dec. 6, performing Duke Ellington's "Nutcracker Suite." Successful in more ways than musical, it's also the first time a union contract has been filed for an engagement for local musicians at the Blue Note Hawaii. This venue has been offering low guarantees or a percentage of the door charge only to local musicians. However, they've paid millions to contractors and carpenters for renovation work – and pay wait staff, managers, chefs, high-profile national acts, and food and liquor vendors normal fees. Why should local musicians be asked to work at discounted rates?
From the Winter 2016 issue, "Of Note," Ke Ola O Na Mele
In this issue:
President's Message: "Collective bargaining is the lifeblood of our organization. It works when musicians stand together to make their voices heard." —Steve Pearson
Member Spotlight: George Kuo, Hawaiian slack key guitar master: "The sounds of the traditional Hawaiian slack key guitar touch my senses and invigorate me like no other music or activity — it's such an overwhelming, good feeling."
2016 Election Results:
 The results of the Aug. 22, 2016 Local 677 elections are here!
Building Update: 949 Restrooms & Building Cleanup — Renovations are a dirty business, but union musicians are up to the challenge. A select few gave parts of the union headquarters some much-needed love.
Of Note: